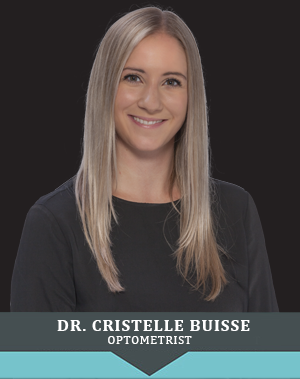 Optometrist in Elkhart and Goshen
Dr. Cristelle Buisse grew up in Canada and is fluent in both English and French. She received her Bachelor's degree from University of Winnipeg, Manitoba, Canada, and Doctorate in Optometry from Illinois College of Optometry on the Dean's List in 2019. Dr. Buisse did her medical externship at Illinois Eye Institute in Chicago, IL.
Dr. Buisse is thrilled for the opportunity to serve the community's eye care needs with Integrity, Compassion & Excellence. She practices full scope optometry, has experience in urgent care optometry, and specializes in the diagnoses, treatment, and management of ocular disease, pediatrics, and routine eye care (glasses & contacts) for all ages – from babies to seniors.
Dr. Buisse is a proud member of the American Optometric Association.
Dr. Buisse resides in South Bend and maintains office hours in Boling Vision Center's Goshen and Elkhart offices. She welcomes new patients!
---
Quote
I am fortunate to have had the opportunity to work with many exceptional doctors who have encouraged and supported my passion, providing me with an invaluable knowledge base and reinforcing my diagnostic, communication, leadership and patient-doctor relationship skills. My goals are to use these skills, combined with an outstanding educational foundation, in providing the highest quality of patient care in all areas of optometry.
Interesting Fact
Dr. Buisse was a competitive elite gymnast and coach in Winnipeg, Canada and soccer coach for Special Olympics in Manitoba. She has a passion for working with children with special needs, including FASD, PDD, Autism, Down Syndrome, and CP.
Eye Doctor in Elkhart and Goshen
Dr. Buisse sees patients in the Elkhart and Goshen offices.
---