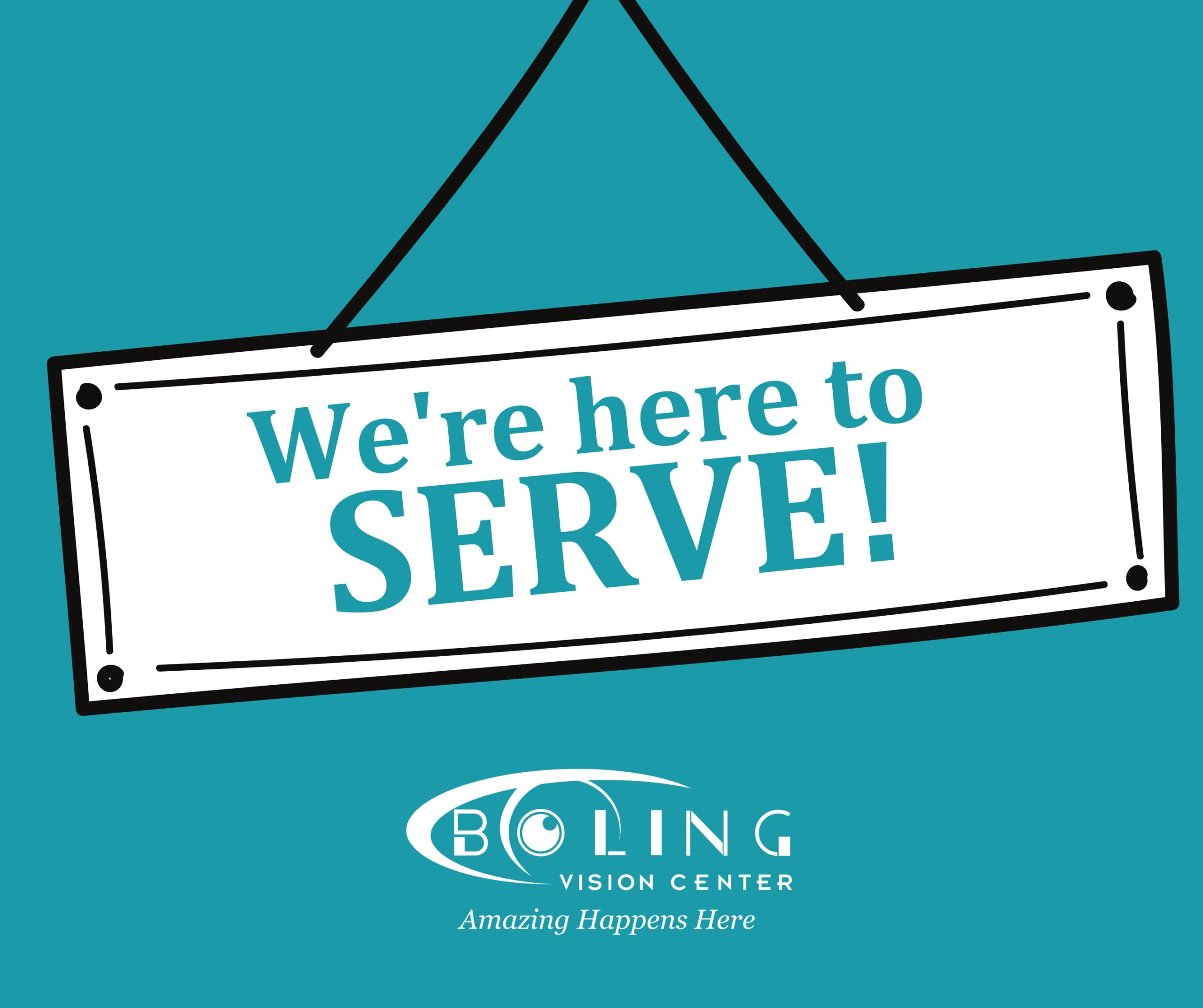 We care deeply about the health & safety of our Guests, Team Members & Community, which is why we are taking EXTRAORDINARY PRECAUTIONS to continuing serving ALL with Integrity, Compassion & Excellence during these unsettling times! Please know that at Boling Vision Center, we serve Guests every single day who rely on their vision for critical daily living activities, such as walking, driving, and identifying/taking their essential medications safely.
In order to continue serving the Families of Our Community throughout the coming weeks, please know that we are taking extreme measures to help reduce the spread of COVID-19 and other illnesses, including:
• All BVC Team Members are undergoing temperature readings 3 times per work day
• All BVC Providers are wearing approved medical-grade masks
• All BVC Providers are suspending all non-essential travel
• All BVC Team Members will NOT be shaking hands or hugging others
• All BVC Team Members who are feeling ill will NOT be permitted to work their in-person shift
• All BVC Team Members have been educated on additional disinfectant protocols (above and beyond typical procedures) for rooms, equipment and high-touch areas
• A Dedicated Disinfectant Team will be continuously cleaning ALL high-touch surfaces (door handles, light switches, keyboards, doors/walls, countertops, etc.)
• Reception and waiting areas will be reconfigured to maximize social distancing opportunities
• The ICE Café will ONLY be open for carry-out orders
• All magazines, books & children's toys will be removed from guest areas
• BVC is committed to supporting our Boling Vision Center Family with their childcare needs during this time of School Closings
• All Scheduled Guests will undergo a preliminary verbal screening regarding symptoms PRIOR to arrival
• All Scheduled Guests & Visitors will undergo a verbal screening regarding symptoms UPON arrival
• All Guests (those with scheduled appointments, those accompanying guests with scheduled appointments, vendors, delivery service providers, and all other building visitors) will be required to undergo a temperature reading PRIOR to entering the building.
o Guests with appointments who refuse to undergo a temperature reading will be asked to reschedule their appointment and those accompanying guests who refuse to undergo a temperature reading will be instructed to wait in their vehicles;
o Vendors, Delivery Service Providers & Other Building Visitors who refuse will NOT be permitted to enter the building.
• All elective procedures (clear lens exchanges, intracollamer lens implant procedures & blepharoplasty surgeries), in our Ambulatory Surgery Center will be postponed. Essential procedures & office based procedures (which do not require hospital personnel or supplies) will continue to be performed as scheduled.
Please know that we are monitoring the developments of this situation closely, and will take additional measures as necessary. Thank you for your patience, flexibility, kindness, and understanding as we all navigate these unchartered waters together.
Rest assured that the Boling Vision Center Family will continue to be here to serve our community, and we are happy to answer any questions you may have along the way! If you or a loved one is in a high-risk population and are in need of assistance with the delivery of paper supplies, medications or groceries, please contact us so we can connect you with our available/partner resources!
Thank you for continuing to trust Boling Vision Center with your precious gift of sight.
Warmly,
The Boling Vision Center Family