Boling Vision Center Proudly Presents…ICE Café
Boling Vision Center's commitment to providing a premium experience for every patient has been taken one step further.
We now have an on-site coffee house and café, the ICE Café, so feel free to come to your appointment early, stay late, or visit us anytime to experience a warm atmosphere with delicious food and specialty coffees. If you're in a hurry, feel free to call ahead to have your order ready upon your arrival.
ICE Café also offers FREE WIFI to patients and visitors to ensure you stay connected. Whether you're here for an eye exam or lunch, we are committed to providing an environment that will help you stay productive with work or connect with friends on your favorite social media site.
At Boling Vision Center, you will always feel like you're part of the family. This is due to the fact that each and every patient is served with ICE – Integrity, Compassion and Excellence. So come on in and get your serving of ICE today at the ICE Café, located in the lobby of Boling Vision Center's Elkhart location.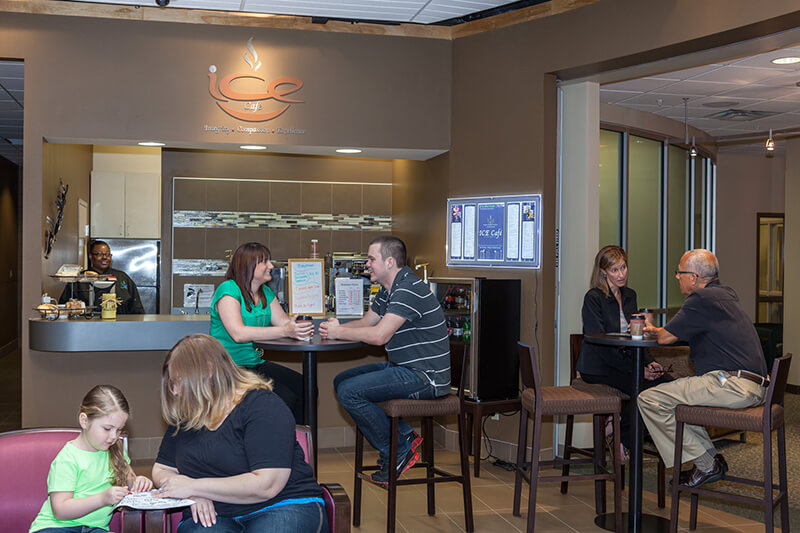 Delicious Happens Here!
ICE Café is a registered retail food establishment through the Indiana State Department of Health and has certified food handlers on staff to ensure the safest and most delicious experience possible.
ICE Café Hours Of Operation
Monday-Thursday: 7:30am – 5:00pm   
Friday: 7:30am – 2:00pm
Telephone number: (574) 584-2026
---