What to Expect on Cataract Surgery Day
At Boling Vision Center we only recommend cataract surgery when vision becomes moderately to severely impaired and begins affecting your daily life. Removing the clouded lenses is the only option to permanently treat cataracts and stop the further decline in vision.
It is completely normal to have anxiety over the cataract surgery process. Our team is prepared to make your surgery day as comfortable and relaxing as possible. You will be fully informed about each step of the procedure. The procedure itself lasts approximately 15 minutes and is performed as an outpatient procedure at our INSIGHT Surgery Center in Elkhart, Indiana.
Are You A Candidate For Cataract Surgery?
Here is what to expect during our no needle, no stitch, no patch cataract surgery:
Anesthetic eye drops are administered to numb the area.
A small incision is made on the cornea of one eye only.
A high-frequency ultrasound device is used to break up the cloudy lens and gently remove the lens from the eye.
A pre-determined intraocular lens (IOL) is inserted into the eye. This serves as a replacement lens for the natural one that has been removed.
There is no need for stitches – the corneal incision will heal naturally on its own.
A protective shield is placed over the eye to protect it as it heals.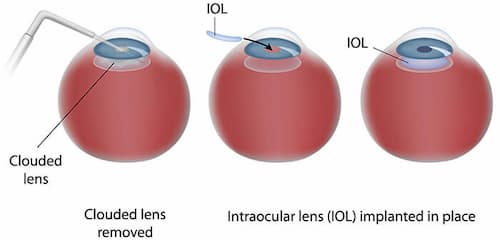 You will need someone to drive you home after surgery. The protective shield should be worn for approximately one week after surgery while you sleep or nap. You will receive other post-op instructions to help your eye heal.
If you have cataracts in both eyes, the second eye surgery will be done after the first has fully healed – in approximately two weeks.
With nearly three million Americans experiencing cataract surgery each year, cataract surgery is among the most common and successful surgical procedures performed today.
---
Find Out if Cataract Surgery is Right For You
Schedule your cataract consultation online today, or call (800) 283-8393