Keep Your Eyes Safe As You Work, Play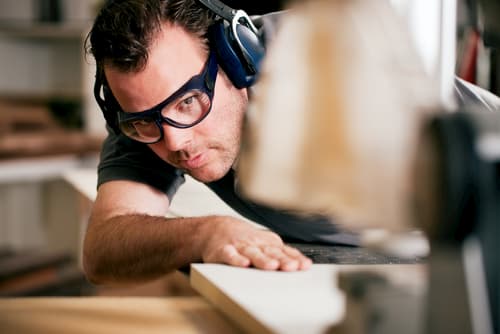 Eye protection is important for sports and for certain occupations. Our Optique Eyewear department has an extensive line of safety goggles and safety glasses to meet the unique vision safety challenges of your job or sporting passion.
Most people think of safety glasses as a must for workers in construction or manufacturing, but they are also important for jobs in fields like auto repair, culinary arts and even desk jobs. The right eyewear can help protect against:
Infections
Penetration
Flying objects
Grease splatters
Chemicals
Radiation
Digital eye strain/computer vision syndrome
Types Of Safety Glasses
Safety glasses and goggles have both lenses and frames that conform to a higher standard of impact resistance. All of our basic and high-impact safety glasses adhere to the standards set by the American National Standards Institute (ANSI). We offer the following types of safety glasses:
Shamir Office™ lenses
Sports glasses for various sports
Safety goggles
Polycarbonate lenses
Photochromic lenses
Prescription lenses
Standard lenses
Eye Injury Stats
2,000: daily number of American workers who suffer an eye injury
700,000: annual number of Americans who injure their eyes at work
125,000: annual number of Americans who injure their eyes at home
40,000: annual number of adults and children who suffer eye injuries during sports
1 Million: total number of Americans who have lost all or part of their vision due to a workplace eye injury
It is estimated that 90% of these injuries could be avoided if workers used approved eye protection that is certified by the American National Standards Institute (ANSI).
Learn what the eye dangers are for your particular line of work or physical activity and take measures to minimize the risk as much as possible. Make sure your employer is providing you with the right protective gear as required by the Occupational Safety and Health Administration (OSHA).
Virtual Eyewear Try-On
Our Virtual Try-On Tool can help you find frames that are perfect for you – from the comfort of your own home! With thousands of brands, colors, styles, and patterns to choose from, you'll be sure to find the frames that fit your unique style and needs!
---