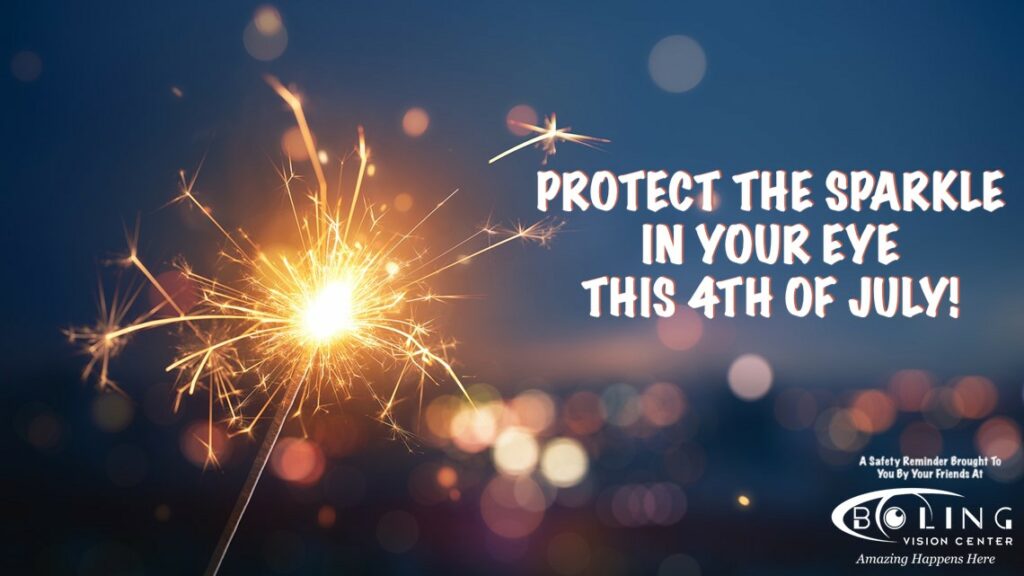 Fourth of July is upon us, which means many are looking forward to family celebrations, backyard barbecues, and fireworks.
As beautiful and exciting as fireworks can be, please know they can also be very dangerous. In fact, approximately 10,000 fireworks-related injuries are reported each year, with nearly 15% of those being eye injuries.
Some Fireworks Facts
Understanding the prevalence of fireworks-related injuries, especially eye injuries, is the first step to
preventing accidents. Please keep these facts in mind when using fireworks:
1 in 6 of fireworks-related injuries results in permanent vision loss
On average, 400 Americans lose sight in one or both eyes due to fireworks every year
45% of fireworks-related injuries occur in children under the age of 14
This is why we highly recommend you leave the fireworks to trained pyrotechnic professionals; however,
if you're planning to handle fireworks yourself, please remember the following precautions to ensur
your safety and the safety of those around you:
Tips & Reminders for Firework Safety
Always wear safety glasses/protective eyewear when handling fireworks.
Bystanders should also consider wearing eye protection to avoid injuries caused by falling debris.
Don't allow children to light or play with fireworks.
Don't try to re-light or pick up fireworks that have not ignited fully.
Keep a water source close by.
Follow the instructions, and please don't attempt to make your own fireworks.
Never light fireworks off indoors.
Wet fireworks down after use.
Please keep pets indoors.
Please consider others that may experience sensitivity to loud sounds, flashing lights, or pyrotechnic effects by providing earplugs and/or a dark room inside.
If you experience an eye injury, please seek medical attention immediately. Do not rub, rinse, or apply pressure to your eyes. Do not attempt to remove any objects that are stuck in your eye. And, please do not apply ointments or take any blood-thinning pain medications such as aspirin or ibuprofen until seen by an eye doctor.
Keep Fireworks Fun
Please remember, unexpected injuries not only ruin good times, but they can also dramatically change lives. So, please keep fireworks fun by remembering these tips and being smart about how you use (and view) fireworks. Stay safe out there!
Happy 4th of July from our Boling Vision Center Family to yours!