As our community continues to cope and adjust to the fast-moving and ever-evolving spread of the coronavirus, COVID-19, please know that our Boling Vision Center Family sincerely hopes that you are staying healthy (mind, body & soul) during these unsettling times.
We also understand and fully appreciate the need/desire to continue to manage your eye health and other eye care needs during these times, while also ensuring you and your loved ones remain safe and protected. Because of this, Boling Vision Center is now offering convenient and easy-to-use options for Virtual Visits with our trusted team of Eye Experts!
Please know that we look forward to continuing to serve you now and in the future, and we are honored that you continue to call on us to protect, preserve, and enhance your precious gift of sight!
Serving Michiana since 1960.
CALL US TODAY TO SCHEDULE YOUR VIRTUAL VISIT AT 800.283.8393.
---
WHAT ARE VIRTUAL VISITS?
Virtual Visits – also referred to as "telehealth" – are eye health appointments where a Boling Vision Center Doctor will interact with you through live audio and/or video! These visits are documented in the medical record, just like a regular office visit. These Virtual Visits are ideal for those with non-urgent issues that need/want to see one of our Boling Vision Center Doctors during the COVID-19 self-isolation and quarantining periods. It is also a convenient option for anybody who is unable to see our Doctors in person.
With a Virtual Visit, you will be able to interact with your doctor to address your symptoms, develop a treatment plan, and discuss next steps … all from the convenience, comfort, and safety of your home!
---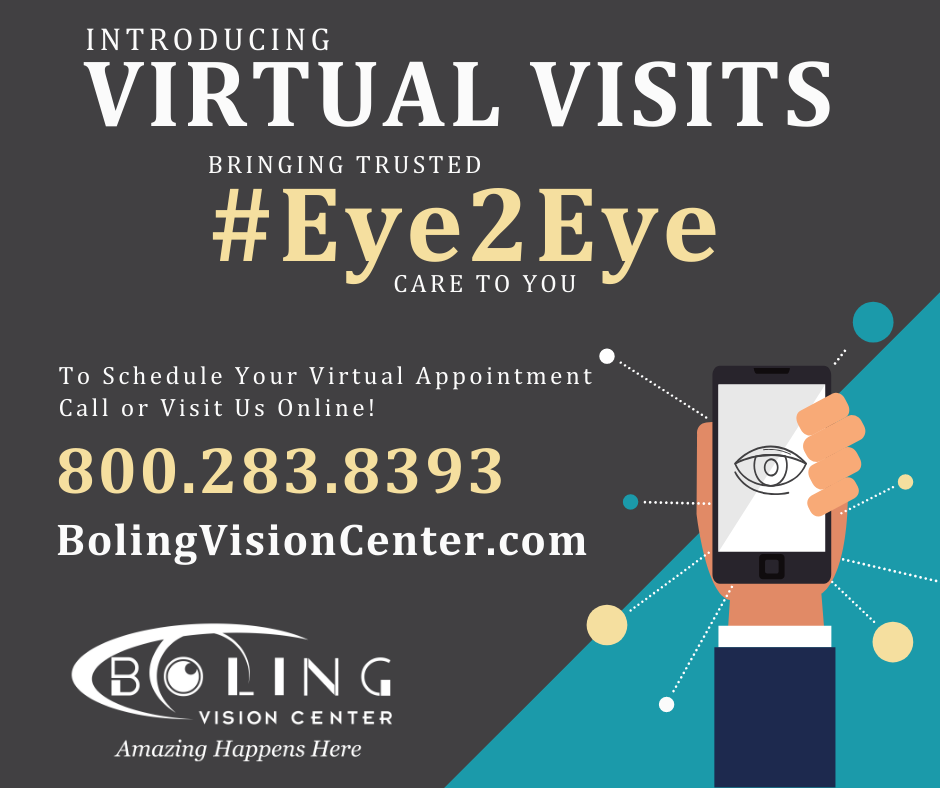 WHAT TECHNOLOGY WILL I NEED FOR A VIRTUAL VISIT?
All you need is a smartphone, tablet, or computer! Please note: Our Boling Vision Center Team will need a valid cell phone number and email address on file, so we can send you a login link for your appointment. Then, you will connect with us through the text message link (or email) sent to your device from our secure Virtual Visit system.
---
WILL MY APPOINTMENT BE CONFIDENTIAL?
Your appointment will be completely private and confidential, exactly like it would be if your appointment were in person. Although you may have heard in the news that some HIPAA requirements were "relaxed" during the COVID-19 pandemic, please rest assured that Boling Vision Center will continue to protect your health information with the same commitment and diligence that we do in person!
---
DO VIRTUAL VISITS COST EXTRA?
Virtual Visits cost the same as traditional in-person appointments and will be filed to your insurance.
---
DOES MY INSURANCE COVER VIRTUAL VISITS?
Most insurance companies are covering Virtual Visits during these unprecedented times; however, it is always best practice to contact your insurance company directly to ensure they will cover your virtual visit.
---
HOW DO I SET UP A VIRTUAL VISIT AT BOLING VISION CENTER?
Call for an Appointment!
Call us at 800.283.8393 to schedule a Virtual Visit with us! One of our Patient Service Representatives will determine if a Virtual Visit is the right type of appointment for your unique needs. If so, we will then work with you to schedule a convenient day and time for your Virtual Visit.
Visit Our "Request an Appointment" Page Online!
Click here to schedule your virtual appointment. A Boling Vision Center team member will call to confirm your appointment.
---
HOW DO I JOIN A VIRTUAL VISIT?
Once scheduled, we will send you a unique link via text message (or email). You will then be able to connect to your Virtual Visit from your smartphone, tablet, or computer!
If you have any technical issues, please call us at 800.283.8393 to reach our support team.
---
WHO IS MY TEAM OF VIRTUAL DOCTORS?
The same AMAZING doctors who are available to see you in person! All of our Boling Vision Center Doctors will be available to address your symptoms, develop a treatment plan, and discuss next steps virtually!