Restore Youthfulness To Your Eyes
Eyelid surgery, also known as a blepharoplasty, is performed by our surgeons in our Elkhart location to correct:
Tired appearance to eyes
Overhanging skin in the upper or lower eyelids
Excess upper lid or lower lid skin
Excess fat in the upper or lower eyelid areas
Droopy eyelids
Puffy eyelids
Bags under the lower eyelids
Consultations are available in our Elkhart, Goshen, and Notre Dame locations.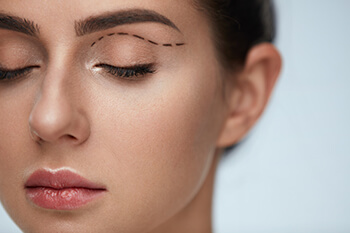 How Eyelid Surgery Is Performed
During eyelid surgery, an incision will be made in the upper or lower eyelid. Excess fat or skin will be removed or repositioned and muscles tightened. The incision is then closed with sutures or other methods.
In an upper eyelid surgery, the incision is well concealed in the upper eyelid crease. Our surgeons are highly skilled at keeping the scars as invisible as possible since they are hidden within the natural folds of your eyelids. During a lower eyelid surgery, the incision is made inside the lower eyelid, so no visible scar is seen.
Benefits Of Eyelid Surgery
After an eyelid surgery, you will experience a more refreshed and youthful appearance, less puffiness under the eyelids, an enhanced ability to see in the peripheral field of vision and an improved ability to apply makeup (eye shadow and eyeliner) without difficulty.
Find Out If Eyelid Surgery Is Right For You
Schedule an aesthetic consultation online today or call 800-283-8393.
---